Year this backwards around turned got everything, me for.
I intentionally don't make resolutions for the new year, because I don't want to feel that gut shot zing of failure when I inevitably give up on whatever AMAZING THING I was going to accomplish because it ends up being boring, or I get too busy, or I fall into a crushing depression after learning that my mother has stage four cancer….I would rather set my expectations at a reasonable level that I can sustain for the entire year.
Yet somehow, I began 2022 with the intention of starting not one but two yearlong embroidery projects? It's like I don't learn!
---
I wrote a bit about the temperature chart I didn't finish in my last post, but here it is again:
I keep saying I will finish it, but someone on Instagram said I shouldn't continue to put my valuable energy into something that I don't ultimately value very highly, and that resonated with me. I have boatloads of unfinished projects that make me feel heavy, but what if instead of being evidence of laziness or lack of follow-through, that is evidence of my learning what I do and don't enjoy about my craft? What if I don't need to go back and finish everything? What if the lack of completion is the point? Maybe this is as finished as this piece gets.
---
In what I thought would be an "easier" commitment, I also joined the Badass Cross-Stitch Year of Stitch hosted through their Patreon. The idea here was to learn one new embroidery stitch each week and practice it on a series of samplers that Shannon would create for us. Each sampler features six different stitches, for a total of 9 samplers (causing a two-week spillover into the new year, to catch 54 stitches instead of 52.)
Any bets on how far into that I made it? Here's how far: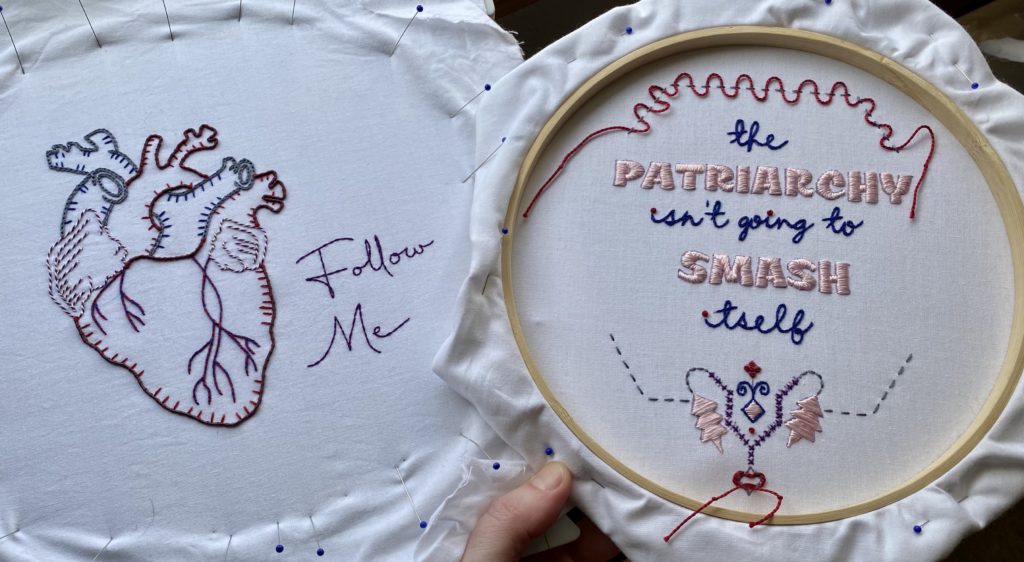 That's two samplers, friends, representing 12 weeks of progress. I'm kind of impressed that I made it that far. Actually, I made it a little bit further—I managed to print out the next four samplers as well, and during an online meetup one weekend, I even managed to cut some fabric and hoop it for each of them:
Shannon repeatedly reminds us that learning isn't linear, that we aren't "behind" simply because we haven't cranked out all the samplers already, and that we are each of us in charge of our own art and what we choose to make or not. I'm trying to internalize that message rather than dwell and brood. I know that, when I am ready, the tutorial videos will be waiting for me, the fabric and thread and patterns will be waiting for me, and they will make sense in my life.
Until then, back to the icon-a-day spiral journal I started in July! I've managed to keep up with it so far, and I was able to finish my 2021 piece, so odds are good. I can't wait to see what it looks like with all the guide lines erased!
---
Cover Photo by cottonbro studio from Pexels
---