Failure is always an option.
Listen. I have contemplated writing a blog post for a month now, and every day I recoil from the keyboard in shame, unwilling to broadcast my defeat at the hands of NaNoWriMo (and my own poor energy management) yet again. If you've been following my journey, you probably suspected that something less than miraculous happened during November, but let's just clear the air: I didn't finish the challenge.
To be exact, I wrote 6,648 words of my 50,000-word goal. My first reaction is to be disappointed in myself. This is my third year running where I wrote fewer than a quarter of the words I intended to write. Obviously, my brain tells me, I'm not a writer. I'm never going to be a writer. I can't even write one book, how could I hope to be paid for writing if I can never finish anything? No one can buy a book if it hasn't been written and published.
Then, as if the universe knew I needed it, on December 1 the program director of NaNoWriMo, Tim Kim, sent this email with the subject line "Here's to valiant attempts":
Tim is totally right. These thoughts I have are destructive and useless, and perfection is a noble but unrealistic pursuit. It is an effort and an exercise in self-love to reject these thoughts and reframe my "defeat" as a learning opportunity, and to take the good that I can from what I did do. So, what did I learn? What did I do?
First, let's spin the numbers to be more favorable and representative of the time I spent writing. While it's true that I wrote 6,648 words over the course of 30 days, it's also true that I logged all of those words in only seven days.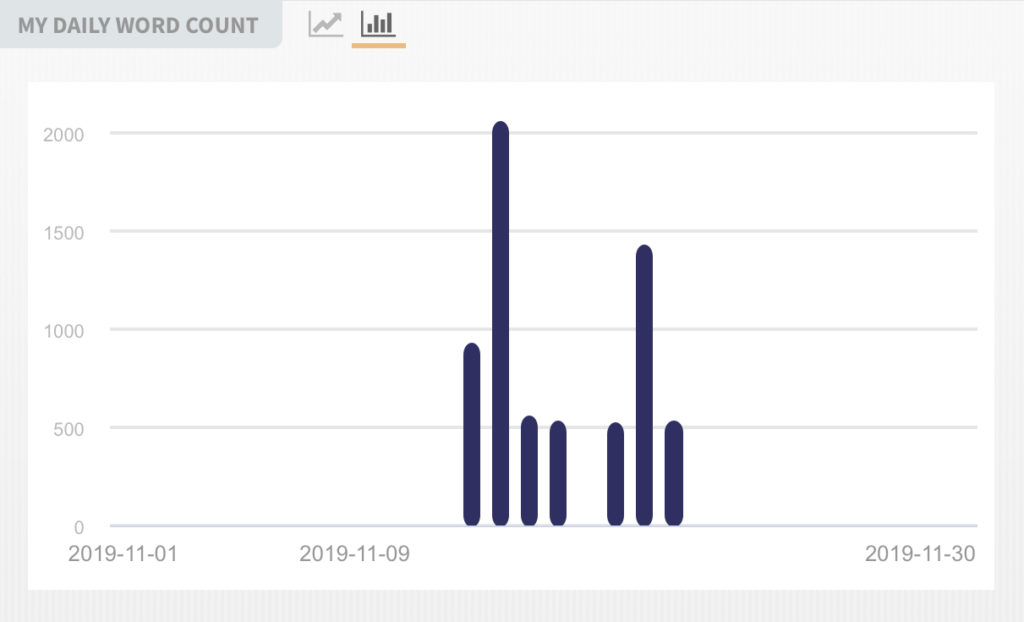 As you can see, I wrote more than 500 words on my four "worst" days, and over 2,000 words on my best day. My average is about 950 words on each day that I wrote. That's very respectable, and if I could have maintained that momentum for 30 days, I would have sat closer to 30,000 words, which would blow my NaNoWriMo personal record (11,500 words) right out of the water. So, I clearly have the ability to complete the 50,000-word challenge, if I am consistent in my efforts.
I also learned a valuable lesson about the distance that sheer determination will take me, and the gap between what is theoretically possible and what is reasonable. I chalk my shortfall to using everything up in October for 21×31—I spent 31 days essentially doing 21 NaNoWriMos, and when I think about it that way, it makes perfect sense that I didn't have any fuel left for one more. I am not a robot, and even if I were, robots require maintenance from time to time, and it can be planned. AKA, I needed to put a break between 21×31 and NaNoWriMo, to give myself a decent chance of accomplishing both.
The good news is, I don't think I am alone at all in my struggle to strap in and write, or my battle to maintain momentum in my writing. In addition to Tim Kim's message, I came across this great passage, which is from a VICE newsletter piece by Mitchell Kuga about watching Serena Williams play tennis, for perspective:
Before I start writing, which is my full-time freelance job, I have a little ritual to get my brain working: light palo santo; meditate; scroll Instagram; scroll Twitter; check email; call a friend; clean the toilet; check my bank account; organize my closet; stare at the ceiling; scroll Instagram; slip into a Wikipedia hole; talk to my husband about what I think I might write; read my horoscope; try on seven "writing outfits"; whine; scroll Instagram; child's pose; scroll Instagram; scroll Instagram; scroll Instagram.

This ritual feels sacred. Without it, I absolutely, 100 percent cannot sit down to write….
And an acquaintance of mine who happens to be a published writer, Lish McBride, shared these two little gems from Twitter:
It's both reassuring (and [only mildly] discouraging) to know that other writers, even published ones, share these struggles. It's not just me! This is the inertia we all have to overcome, and for me, a part of the process. In the end, I still know in my heart that I'm a writer, and I just have to believe in myself and then do the work.
---
In tangentially-related news, I pulled my postcard poems together into a little book to give to friends and family members for holiday gifts. The package arrived from Shutterfly yesterday, and except for the fact that fully half of the books have some kind of [very minor] damage/printing error, I am very pleased with how they look and can't wait to give them to my loved ones!
<promotion>
Before I placed the order, I briefly considered offering them up (for purchase) here to my many fans, but that felt presumptuous and self-aggrandizing. That being said, the project is saved in my Shutterfly account, and I can order books on demand if anyone is interested. They are about $35 each, plus shipping (unless I can order enough to get free shipping!) So, if you would like one of these bad boys, comment on this post, or send me an email, or contact me in some other way if you have it.
</promotion>
---